Since December 2017 when PlayerUnknown's Battlegrounds (PUBG) released for PC and created a buzz all around the world, everyone is talking about the Player Unknown Battlegrounds even it have been released for mobile, Xbox One, and PS4.  If you are a fan of multiplayer battle royale game, then you would love to know everything about Player Unknown Battlegrounds aka PUBG.
About Player Unknown Battlegrounds
The PLAYERUNKNOWN'S BATTLEGROUNDS is a battle royale shooter online multiplayer game that pits 100 players play against each other in a struggle for survival. Gather supplies and outwit your opponents to become the last person standing and get the "Winner Winner Chicken Dinner" tag. We will also like to share you that Brendan Greene also known as "PLAYERUNKNOWN" is a creator of this battle royale games. He also made ARMA series and H1Z1: King of the Kill.
Note: This Game may contain content not appropriate for all ages, or may not be appropriate for viewing at work: Frequent Violence or Gore, General Mature Content.
Player Unknown Battlegrounds Gameplay
As you know that it is the battle royale game where you jump on the island with 100 opponents and select or choose your path or make strategies to be the last man standing. Well, there is a solo, duo, or squid option is available so that you can play with your friends as well. Also, there are both different mode available-FPP and TFF to play first-person or third-person perspective.  Both modes have their own reward and drawback in combat and situational awareness.
There are no stages or levels to complete and go ahead like other normal games. Every time you need to start by parachuting from a plane onto a map area (there are four different maps which we will discuss below). While the plans fly above the map, you will have to decide the place to jump and determine the best time to eject and parachute to the ground.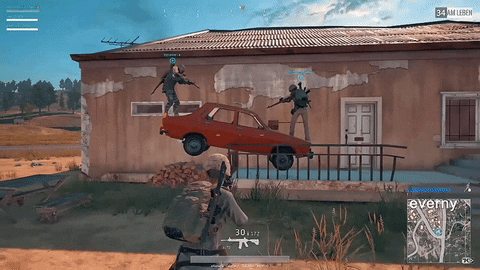 Once you reach the ground area, you need to search for weapons, vehicles, armor, and other equipment which will help you to fight with opponent and survival for a long. Well, you can jump on the place with best loot, but the danger would be high many other players my dive on the same place. So, keep it on your mind as well. Once you kill any rival, it will convert into the box which you can loot.
Every game will be last for around 30 minutes and once you started looting and killing an opponent, the blue zone starts after every five to random places. So, if you caught outside the safe area, then you can get damage incrementally. So, you will need to get to the safe zone as soon as possible. You should also know that every next zone is a danger then last as it can give more damage. The final zone wills the most harmful which can know you down. Likewise blue zone, there are also red and bombed area highlighted in the safe zone also, so you will need to beware of that and try to cover yourself under the roof.
Is player unknown battlegrounds free to play?
Since the release of the Playerunknown's Battlegrounds, most of the people want to know is player unknown battlegrounds free to play, then let me tell you that PUBG free for the only mobile. The player unknown battlegrounds Xbox One, PC, and PS4 users have to pay to play player unknown battlegrounds. And the player unknown battlegrounds price is very from a different platform which will discuss below.
Player Unknown Battlegrounds PC
Let's start with the Playerunknown's Battlegrounds PC version which was released first for Window devices on December 20, 2017, with the biggest Chinese published Tencent and through Steam. The Player Unknown Battlegrounds PC version has sold in millions and created a record. You may like to know the Player Unknown Battlegrounds PC price, so let me tell you that it available at steam at $24.99 so you can save 33%.
Player Unknown Battlegrounds Xbox One Release
After the PC version of the PlayerUnknown's Battlegrounds has sold millions of copies and created several records. The Xbox One users had started looking for the Player Unknown Battlegrounds Xbox One release date, and Microsoft has announced the Player Unknown Battlegrounds preview version and finally release Player Unknown Battlegrounds for Xbox One on September 4th, 2019 with the price of $29.50.
Player Unknown Battlegrounds Mobile Release
Meanwhile, the PlayerUnknowns Battlegrounds Xbox One developing underground, Tencent Games and PUBG Corporation additionally announced the Player Unknown Battlegrounds Mobile version for Android and iOS. The first version "PUBG: Exhilarating Battlefield" by Lightspeed & Quantum Studio and Lightspeed & Quantum Studio by Tencent's Timi Studio. Hence, they release PlayerUnknowns Battlegrounds mobile version for Android and iPhone for free to play in March 19, 2018, with the PUBG Mobile English version globally and the PlayerUnknowns Battlegrounds mobile crossed 200 million downloads by the end of 2018.
Player Unknown Battlegrounds PS4 Release
After the release of PUBG for PC, mobile, and Xbox one, everyone's eye was on the PlayerUnknown's Battlegrounds PS4 release and finally release PUBG PS4 final version on December 7, 2018, at the Player Unknown Battlegrounds PS4 price $29.99. The good thing is The PlayStation 4 version Player Unknown Battlegrounds includes platform-exclusive customization items, specifically the outfit of Nathan Drake from the Uncharted series, and Ellie's backpack from The Last of Us.
Player Unknown Battlegrounds Map
As we said above that you will have to jump to the island with 100 players. So, from the main menu of the game, you can choose between four different maps. There are four different maps:
Erangel (Jungle map).: a Russian map
Miramar(Desert map). : a Central America/Mexico sand map
Vikendi (New snow map): an Adriatic island snow map.
Sanhok (Savage Map) : a Southeast Asian forest map.
These three PUBG Maps available which you can choose as per your preference to play with your teammate. Once you start playing the game, you may like to know the best player unknown battlegrounds loot map locations on all Playerunknowns Battlegrounds map. To know the best loot place in PUBG, you can go the https://pubgmap.io/ page to know every detail about best spots in all maps.
Best Player Unknown Battlegrounds Weapons
Whether you are a new or a PUBG pro player, you may want like to know about the player unknown battlegrounds weapons to play the game like a pro. So, there is little detail about the unknown player battlegrounds weapons:
Sniper Rifles
AWM, the most powerful sniper rifle. You cannot get at the normal place. You can get it in supply drop.
M24 is snipers you can find on the floor. You can kill opponent with most head shots.
The Kar 98k is a capable runner-up, while the SKS may not show off as much firepower but does offer a higher rate of fire.
MINI 14 & SLR
Assault Rifles
AKM
SCAR-L
M16A4
M416
M762
AUG
Groza
Beryl
SMGs
Shotguns
Machine gun
Pistols & Side-arms
R1895
R45
P18C
P92
P1911
P18C
Melee Weapons
Machete
Crowbar
Sickle
Pan
Crossbow –The truly silent weapon.
Player Unknown Battlegrounds System Requirements [PC &  Mobile]
If you are playing to buy the playerunknown's battlegrounds PC version, then you should make sure following playerunknowns battlegrounds pc system requirements.
PUBG PC System Requirements
OS: 64-bit Windows 7, Windows 8.1, Windows 10
Processor: Intel Core i3-4340 / AMD FX-6300
Memory: 6 GB RAM
Graphics: nVidia GeForce GTX 660 2GB / AMD Radeon HD 7850 2GB
DirectX: Version 11
Network: Broadband Internet connection
Storage: 30 GB available space
PUBG Mobile System Requirements [Android & iPhone]
iPhone 5s or newer
iPad Air or newer
iPad mini 2 or newer
iPad Pro or newer
iPad (5th generation) or newer
iPod touch (6th generation).
Android 5.1.1 or above and at least 2GB RAM
Player Unknown Battlegrounds Tips & Tricks
Before steps on the new world of unknown player battlegrounds, you may want to know some of the best PUBG tips & tricks to survival and be the last man standing.
PlayerUnknown's Battlegrounds is all about survival and choosing the environment-friendly clothes would be a great way to survival in any map as you choose the map-friendly clothes to hide.
Sometimes running barefoot would be good as other players cannot track your footsteps.
Understand to land and fly on the specific area according to your strategies.
Understand the circle and follow your map wisely to track enemies and reach safe zone at the time to minimize damages by blue zone.
Always try to free walk, aim focus and sneak walk.
Also, try to close the door when enemies around once you enter in any building.
Keep eyes on your health and keep healing up to stay healthy so that no one can harm you easily. So, make sure you have enough medical consumable's like MedKit, First-aid kit, and bandage.
When you see supply drops and try to avoid or go for it if you are sure that no one is around.
There are many vehicles available in every map to help you cover large distance easily but simply trackable.
Once you knock out someone, do not waste your time on the knocked one. Always prefer to get down remaining players.
While using weapons, remember once thing that 8x scope can be only used on Sniper rifles.
Keep it in your mind that damaged high-level armour is actually often worse than undamaged low-level armour.
Always keep moving even while looting and camping so that no one can shot on your head.
Sometimes better to avoid gun fight and try to play on the edge of the circle so that you can easily keep your eyes on the circle and no one can attack your from behind.
Player Unknown Battlegrounds Reviews
Here are the best reviews of player unknown battlegrounds from world's biggest gaming websites and tech blogs. So, just look at some best PUBG review.
| | |
| --- | --- |
| Metacritic | 86/100 |
| Game Informer | 9.5/10 |
| GameSpot | 8/10 |
| IGN | 9.5/10 |
| Polygon | 10/10 |
| USgamer | 4/5 |
| PCGamesN | 9/10 |
| Trusted Reviews | 8/10 |
Play hard! Have fun!